Opinion:
by Peter Petterson
Acknowledgements of Stuff reporting: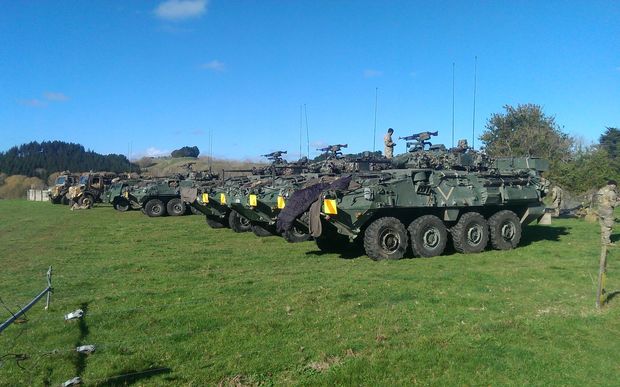 The NZ Defence Force is apparently battling to find a buyer/s for its controversial LAVs (NZ Light Armoured Vehicles). The fifth Labour Govt bought 105 LAVS from General Dynamics of Canada for $653 million in 2001. They entered service in the NZ Army in 2003.
They may find buyers difficult to find because the NZ LAVS have been supplanted by new and better technology – the numbers on sale have increased from 20 to 30.
Around the same time that the LAVS were bought, the Royal New Zealand Airforce's air combat wing was disbanded and plans to buy F-16 Fighting Falcon aircraft as replacements for the A-4K Skyhawks were scrapped. This decision was condemned but the truth has now been revealed.
In 2001 the then National opposition defence spokesman,Max Bradford said the army (deceitfully) withheld vital information from the new Labour Government when it recommended the purchase of the LAVS in the late 199O's. He said, "It is little wonder Helen Clark disbanded the Air Force's Skyhawks and put 700 air force personnel out of a job. She needed the money to pay for…army personnel carriers, which proved totally unsuitable for peacekeeping tasks in our region. Something the general public have never been informed about.
A 2005 report by Auditor-General Kevin Brady said the army could have met its obligations with many fewer than the 105 LAVS bought.
Just 30 LAVS were used at least weekly in 2019 while 60 were rolled out once a month. Thirty more sit idle awaiting sale, according to the Defence Force.
A former Armoured Corps officer, speaking under anonymity, said the LAVS were not successful in Afghanistan.
Perhaps in hindsight, we could still have a (reduced) airforce combat wing. Going by memory, I recall the price for the new combat aircraft had been significantly reduced during negotiations, but it was Helen Clark's apparent dogmatic opposition which caused the total disbandment of the airforce combat wing. As they say, the truth will out.